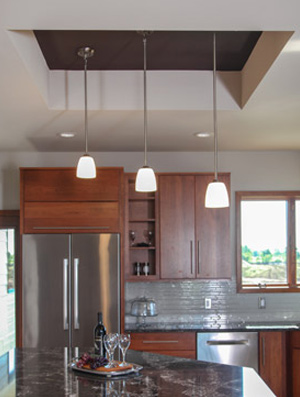 Homecoming. Don't you love that word? Chill the wine, polish up the good wineglasses, make a new music mix "tape," and get ready. Company is coming for the weekend. It's weekends like this we live for. Laughter. Sharing photos on your phone. Tall stories and great memories. Weekends like these are why you bought this house. It's got a great kitchen like the one featured here by our friends at Liebl Building & Design. You've got a guestroom and bath, a ceiling fan near the fireplace, lights that dim and that you set to "relax" mode. We love a house party and so here is our list for welcoming weekend guests to your guestroom:
Clear the clutter, it's a guest room not a closet for your castoffs. Be sure guests can set stuff down on a nightstand by the bed and on the dresser.
Dust and vacuum it up- no cobwebs or dust bunnies.
Fresh clean sheets, pillows, a comforter and an extra warm blanket just in case.
A good lamp by the bed. It's a must. Lamps are awesome, they're portable and you can use it other places after your big weekend.
A stack of towels, washcloths, plus a roll of TP and a new toothbrush would be really thoughtful.
Hooks for clothing or linens. Pet peeve? Feeling like we're camping out in college with clothes and bath towels strewn all over.
Welcome them back. It's a homecoming so make it legendary. Get take-out and plan one meal where you cook together. Sit on your deck and remember when you didn't have one. You know what this is all about. Making new memories.