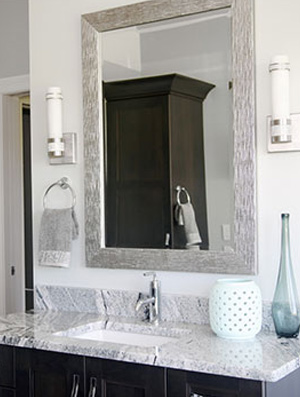 A customer recently shared a revelation: for the first time in her life she would have a master bathroom! No kid's toothpaste in her sink or damp and overstuffed hamper to empty before she could slip into the tub. We high-fived and then she said this: "I want to start with the lighting. I want the light to set the tone." Start-with-the-lighting are not words we hear every day at Madison Lighting, I nearly swooned. This master bath would have lights where they should be at the vanity. Light where the homeowner needed them in the shower, and light that she loved because a bathroom this longed for should have something special: a chandelier or a funky pendant.
With iPad in hand we "photo-toured" her house. A family house filled with warmth and style, it's a bit traditional. With her home-style and dreams for a very personal space in mind we looked at lighting. We talked about her contractor. We talked about her next steps and her timeline for completing the master bath. And we decided to create a lighting plan. In our conversations and looking at her photos I realized she is a bit light-starved. But aren't we all? Many of us grew up with a single fixture over the bathroom sink, and a mirror that was part of a medicine cabinet. No kidding.
Solving the light-starved issue is easier than it sounds. With correctly positioned recessed lighting we can create areas of ambient light. We can light up a beautiful painting. We can draw the eye to interesting architectural elements. The interest we can create is astonishing by working with light and shadow. Add a layer of vanity lighting and sconces to the initial layer of recessed lighting and you have a room that is welcoming all year round. You have a master bath with the right light for putting on eyeliner before rushing out in the morning, and a restorative bath in the evening.
I met with the contractor and, with his blueprint of the new bathroom, created a plan for the lighting he would install. This layout is part of our service at Madison Lighting; new homebuilders, remodelers, and interior designers swear by them. It's a complete guide to where the lighting should be, where the switches should be, and which switch operates each light and the bath ventilation fan.
With forethought we created a lighting plan that took into consideration: the natural light in her bathroom and recessed lighting that will comfortably compensate when there is no daylight. We planned the light over the bathtub (for reading) that she has always wanted, and the need for light over the mirror as well as on the sides of the mirror at her eye level (to reduce shadows). And she picked out a beautiful fixture that will provide ambient light and reflect her personality. We put every thing on dimmers because, well, the right light isn't always "on."
Beautiful lighting can make the whole room. And in this bathroom it set the tone, the atmosphere, to the delight of the homeowner. We love when that happens.