Ceiling fans can add comfort and a decorative element to a room or porch. Selecting the right fan style and finishes, as well as a proportion that fits the space and is sized to move the air comfortably, results in a fixture that you'll use every day for years to come. At Madison Lighting, we can help you choose the right ceiling fan for any space. Here's the how to!
5 Facts You Want to Know
1. To Circulate Air the Right Way? Find The Switch!
To use a ceiling fan year-round, you'll want to change the direction that the blades turn. If you already own a fan, then there may be a small switch located on the motor housing. Simply flip the switch to change the direction of the blades and air flow. Newer fans often operate the blade direction from a remote.
SUMMER – Blades turn counterclockwise. If you use air-conditioning, then a ceiling fan can allow you to raise the thermostat setting 4°F or more, with little to no reduction in comfort. During moderately hot weather, ceiling fans may allow you to avoid using your air conditioner altogether. Install a fan in each room that needs to be cooled during hot weather and you may be able to reduce your home's summer energy use as much as 40%!
WINTER – Blades turn clockwise. Your ceiling fan can help create a warming effect in winter and on cool autumn days. When operated in the REVERSE (clockwise) direction on a low speed, a ceiling fan creates a gentle upward draft that circulates the hot air that often gets trapped at the ceiling.
2. Size it Right For the Space
| | | |
| --- | --- | --- |
| Suggested Fan Size | Application | Room Size |
| 29″ Blade Span | Bathrooms, hallways, closets, pantries | Up to 50 sq. ft. |
| 36″ Blade Span | Breakfast nooks, laundry rooms | Up to 75 sq. ft. |
| 42″ Blade Span | Small bedrooms, small kitchens | Up to 100 sq. ft. |
| 50″ or 52″ Blade Span | Standard bedrooms, family rooms | Up to 400 sq. ft. |
| 54″ or Larger Blade Span | Great rooms, large areas | Over 400 sq. ft. |
3. Find the Spot… We Recommend: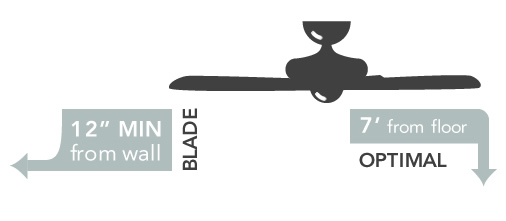 Standard Eight-Foot Ceilings
Not all ceilings are eight feet high, but you can still enjoy a ceiling fan. Look for hugger fans that ride close to the ceiling in order to keep them at least seven feet from the floor.
---
Ceilings Above Eight Feet
Great rooms with soaring ceilings are perfect for ceiling fans. For these installations, your fan should be hung by a down rod, with the bottom of the fixture eight or nine feet from the floor. Fan-to-floor height is important, because the higher the fan is hung, the less air circulates near the floor. You can choose an accessory down rod in lengths of one foot to six feet in order to achieve your desired height.
Ceiling fans can also work well with cathedral and sloped ceilings. Select a fan with the right mounting kit for sloped ceilings up to 40°. Mount your fan as close as eight inches from the ceiling.
DIY? … Watch These First: Minka installation videos; Part 1  |  Part 2
---
4. Performance
A ceiling fan is a motorized appliance. It should look good, but more importantly, it should run absolutely quietly, be perfectly balanced, and have enough motor capacity and blade pitch to move the air. Here's what to look for.
Ceiling fan manufacturers are required by the EPA to label their cartons, brochures, catalogs, and websites with each model's performance rating measured at its highest speed. The label will indicate the fan's airflow in cubic feet per minute (CFM), electricity consumption in watts, and the airflow efficiency, which is a ratio of the first two, measured in CFM per watt. We can use these labels to effectively compare the performance of all ceiling fans.
We recommend more emphasis on the airflow created, rather than the fan's efficiency. Buying a fan that creates more airflow will allow you to raise your air conditioning thermostat a few more degrees, which could create hundreds of dollars in annual energy savings.
What makes a fan good, better, or best? These recommendations are based strictly on performance:

Good – airflow in the 4000 to 5000 CFM range.
Better – airflow in the 5000 to 6000 CFM range.
Best – airflow over 6000 CFM.

Why buy a quality fan? Simple — longevity of the fan motor and components. Your fan should run quietly, improving the cooling or warming airflow of a room for years. You're looking for that sweet spot — a fan you love that moves the air and is made of quality components so it will give you years of quiet service. As you shop our fans, remember that fans considered purely decorative, like palm leaf or wicker bladed fans, are exempt from the labeling requirements entirely. These fans simply aren't capable of moving much air, but may be important to your decorative look.
5. Energy Savings
SUMMER – During warm summer months, fans do not lower the actual temperature in a room! They actually create a wind chill effect that lowers the perceived temperature. This might allow you to raise the setting for your air conditioner from 72 degrees to 76 or 78 degrees, and still remain comfortable while saving considerably on your energy bill.
WINTER – During the winter, run the fan at low speed in the opposite direction (clockwise). It forces the warmer air trapped against the ceiling out to the perimeter walls and back down into the room. As a result, the warmest air is recirculated down into the room and the heating system should not have to work as hard to heat the space. Don't forget to flip the switch!